A Social Media Strategy for Promoting an Event
"Success depends upon previous preparation, and without such preparation there is sure to be failure" ~ Confucius
So you're hosting an event. Your date is set, your speakers are lined up, and you have chosen a venue. We are six months out until the day of your event. It's time to start preparing and promoting it.
Pre-Event curation of content is very important. Create compelling event description with tangible content leading up to and even during the event. Come up with a #hashtag that is short and unique to your event. This will be placed on all your social media profile bios, event website, or page, images post, etc.…
You have your speakers lined up, so now it's time to gather their headshots and bios. Create event images with the event logo and photos of a room full of people.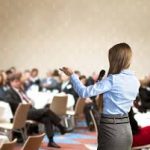 If you have hosted past events, then create images from your past event. Try to create several different images and image sizes as possible. This will make it easy when it comes time to start posting on social media platforms, as well as for fans, affiliates, and attendees to share and don't forget the #hashtag
Visual testimonials are powerful. Create simple speaker interviews, quickly by using Google Hangouts, or Skype. You should also create a highlight reel from past events if possible. Gather images of your speakers, so you can create quote overlays on their images for them and your post.
An event website or event website page is a must have. Create a strong call to action and a prominent register button. SEO your event website, or page with 5-6 keywords and keyword phrases. These keywords and keyword phrases will come in handy when it comes time to email and post on social media promoting your event.
The above items are very helpful to have prepared way ahead to time. You will find that having those things done will be a huge time saver when it comes time to start spreading the word to fans, affiliates and attendees. It will save time when posting across all your social media platforms.
Now it's time to start spreading the word about your amazing event! It's time to create a pre-event email marketing campaign. Assuming you have an email list, email marketing is a very good channel. If you don't have a list ask your partners, friends, and speakers to mention the event. Give them a link to your event website or page. If you are able to send out your own emails be sure to use a strong subject line i.e. a question, create anger or anxiety, or inspire and awe have higher open rates. Send your emails during the weekend. Very few companies do send weekend emails, so your click-through and open rates will be higher. If you have positive testimonials from past events, use them as quotes in your emails. Be sure to use your keywords and keyword phrases in the body of your emails as well as a keyword phrase as your subject line if possible. Don't forget to include your #hashtag and a very strong call to action.
There are several things you can do in Facebook to promote your event. Start with creating a Facebook event. Making sure to add your register link and compelling description. You can boost that Facebook event for a cost and/or create several Facebook ads leading up to the day of the event. Create a Facebook group for attendees and speakers. That is where attendees can benefit from some pre-event networking. Post daily on your Facebook page and don't forget your unique #hashtag, a strong call to action and a clear registration link. Facebook loves video. Visual posts are very powerful on Facebook, Instagram, LinkedIn, google+ and YouTube. Share your speaker interviews and interviews of past attendees across all social media platforms. Your posts should be easy for fans, affiliates and attendees to share, i.e. click to tweet makes it super easy to create a pre-crafted tweet. Make it easy by providing a variety of downloadable content, blog, vlog, graphics, email and newsletter updates. I can't stress enough how visual content is key to capturing the attention of fans, but also have them take action on your content. Another good visual to share is the behind-the-scenes of the preparation for the event. You can also make a variety of graphics for your speakers, so they can promote their presentations. Keep the images consistent with the branding of your event.
"The most successful event is the one that achieves your goals and exceeds your expectations" ~ Author Unknown
If you are planning on hosting an event and do not know where to start, you may want to outsource your social media event promotion to Virtual Assistant (VA). If you do not know what a Virtual Assistant is, I invite to click on my website https://lmsassistyou.com I am a full office support Virtual Assistant. A Virtual Assistant reduces your overhead, taxes and insurance, as well as gives busy small business owner's hours of time back in their day.
If you are interested in this blog post, please follow me and subscribe to my newsletter. Every month I send out administrative, QuickBooks, social media, email marketing and blogging tips and tricks. You can connect with me by clicking the social links below. Next week's post I will be reviewing a few project management online tools and telling you which one is my favorite.